Perths only colourful Photoshoot Location and fairytale Retreat
eclectic opulent wonderland
Welcome to this magical place we call home, we are delighted you have found us.
Jellybean Manor Fairytale Retreat is whimsical yet BOHO.
A vivid wonderland where the most wild playful souls can get creative. In each room and every corner we have carefully placed trinkets that twinkle to catch your eye.
 We are artists and rainbow visionary's, excited to share this beauty and artistic creation with all creatives. We look forward to meeting Perth Photographers and content creators. Rooms are yarns with names of wonder, come be young let's play and ponder.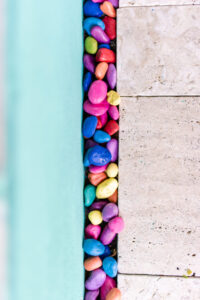 Jellybean Atrium – Space
Grand Entrance and gateway to  the fun house. This space is Devine. Turquoise walls to fall in love with. Stop, strike a poss our grand mirror and catch your breath. This is just the beginning. Features Include ~ Giant Blue Backdrop Doors, Palace Mirror, Glass wall. Hand painted pebbles.
The Magicians Lounge ~ Room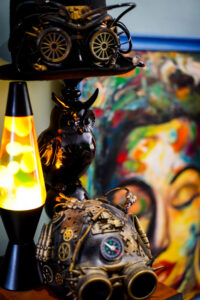 The Magician's Lounge – Room
Merlin has left the building but he has not taken the magic. This room is comfortable and relaxed. Traditional duck egg blue and flares of bright pink this space is a calm corner in our rainbow abode. Features Include ~ wood fire, stained glass window. Beautiful picture windows with view of the lap pool and Zen garden. Antique Brass bed.
Emerald Queen Boudoir – Room
The Queen is extravagant and extraordinary, she has endless beauty. Her crown is the emerald green chandelier placed grandly for all to adore. Yes this room is green but wait till you see how we added coral pink to create this luxurious fantasy boudoir. Features Include ~ French provincial fire place, rainfall shower and bath with a view. Private courtyard garden.
Emerald Queen Boudoir ~ Room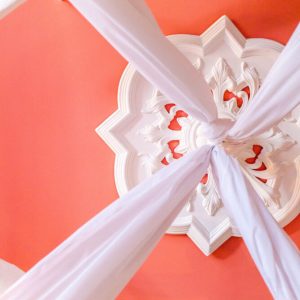 Pavarotti's Courtyard – Garden
Come unwind under Pavarotti our magnificent 10 meter tall Ficus tree. Swing and swim in the deeps blues, pinks and purples of this space. Features Include ~ Water Fountain, Ice Plunge Pool, Infrared Sauna, BOHO Swing.
Pavarotti's Courtyard ~ Garden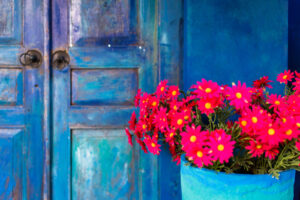 Arabian Alfresco – Room
This room is a favourite with many of our guests, a large outdoor indoor Entertainment space. Read, snooze, laugh. Lookout for Indian and Middle Eastern vibes, Hot Happy Orange and Mustard. Features Include ~ Moroccan Lanterns, outside dining.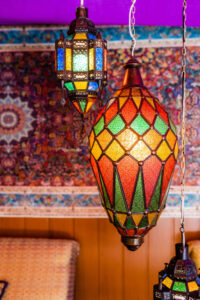 Zen Pool , Spa and BoHO Daybed- Garden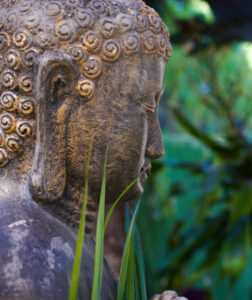 Zen Pool, Spa and BoHo Daybed – Garden
Tranquility and privacy where at the top of our must haves when we designed and built this space. No expense spared we have all your need to completely let go. Features Include ~ 12 meter Lap Pool, Super King BOHO Daybed, Jacuzzi Spa, Outdoor Kitchen, Shower.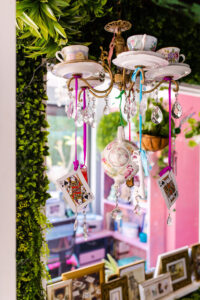 Eden Staircase – Space
A simple yet magical place and we believe the creative mind can make the most of this sweet spot. Features Include ~ Outdoor Dining.
Moon garden -Room
We are addicted to colour, glass and light. Our exquisite Mexican stained glass window is a divine piece of art. Features Include ~ Fairy garden Peacock Chair, Rust Wall, Cherry Blossom Tree.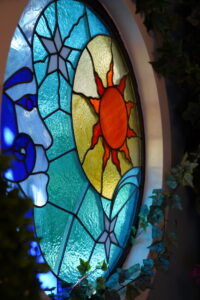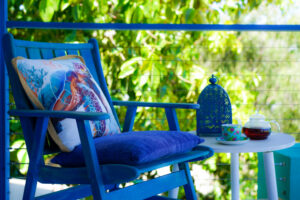 Sunset Balcony ~ Space
World class sunsets and incredible Ocean views. Our huge deck is about to go under transportation, we will be filling this space with gorgeous green plants and MORE.
Hatters Parlour ~ Room
The Hatter is our most whimsical creature, quirky and eclectic. Welcome to our tree top kitchen dinner, we think you will agree this is an incredibly awesome room with mind-blowing views. Features Include ~ SMEG Range Cooker, Jarrah picture windows, Stone fireplace, Granite Bench tops, Backdrop photo wall, Panaramic Views.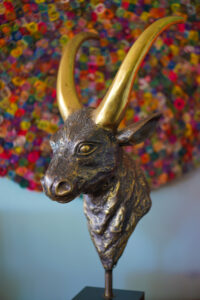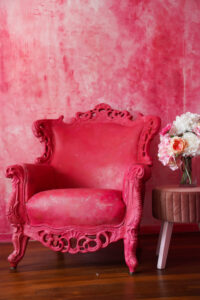 Princess Candy – Room
We appreciate the girly girl and just prove we understand Branding philosophy we have created the ultimate pinkalicious room. Flower power and princess vibes, pinks peaches and white await you this room is yummy. Features Include ~ 4 Elegant Backdrops, Princess Throne, Pink Feature Wall.
Please see Booking form for Terms and Conditions.